If I Had a Journal: erin holberg art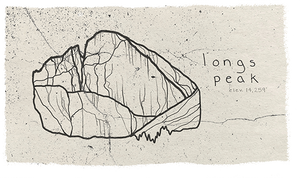 On August 1, 2020, my friend Tim and I took on Longs Peak - a Colorado bucket list highlight for me. That day and the physical exertion, mental space, and resulting satisfaction will forever be etched in my memory. In light of my latest drawing project, I wanted to document what it was like for me personally to reach the summit - and what it took to get there. - - - - - - - - - - 1:15 am - Our alarm goes off, even though I hadn't slept for a second. There were moments between when we...
---

On the last day at my job, a multiple-pound box of supplements fell directly onto the top of my head. After a moment of seeing stars, I looked around in embarrassment, somewhat thankful no one had noticed, as I scooped up the box and placed it back on top of the pallet from whence it came. Rubbing the jarred vertebrae at the base of my skull, trying to assess what damage was actually done, it would only come to me later that the box was a great metaphorical parallel (and merely a heavier version) of the straw that broke the...